Panoramic North India
Places Covered -
Delhi - Chandigarh - Amritsar - Jammu - Pahalgam - Gulmarg - Srinagar - Jammu -
Dramshala - Manali - Shimla - Mussoorie - Haridwar - Delhi
Duration - 23 nights/ 24 days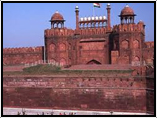 Day 01 Arrive DELHI
Welcome on your arrival and then assistance in transfer to your hotel. Stay at hotel
Day 02 DELHI
Leave for full day visit of Delhi including Qutub Minar- the tallest minaret of ancient time, Humayun's Tomb- the architectural beauty of Mughal rulers, India Gate- the triumph arch built in the memory of World War II soldiers, President House and Parliament, Birla Temple. In the post lunch session you will have opportunity to visit the best-known shopping centers at Connaught Place area- the heart of Delhi. Also one can walk along the streets and have a glimpse of the city's ancient bazaars. Overnight at hotel
Day 03 DELHI- CHANDIGARH (274 kilometers, 6 hours drive)
Proceed to Chandigarh; check in hotel on arrival. After relaxation you will leave for a visit to Rock Garden- surrealist arrangement of rock fossils, Botanical Garden- between the Rock Garden and Sukhna Lake, its rockeries, lily-pools, and the rare species covered in green houses draw attention to garden lovers as well as botanists; and finally the Sukhna Lake- the natural rain created lake in 1958 by damming the Sukhna Choe, a seasonal stream coming down from the Shivalik Hills. Overnight at hotel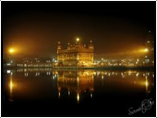 Day 04 CHANDIGARH- AMRITSAR (301 kilometers, 8 hours drive)
Proceed to Amritsar at early morning. Later check in hotel on arrival and then relax. Overnight stay at hotel
Day 05 AMRITSAR
Explore the entire city visiting the famous Golden Temple and Jalianwala Bagh. Leave for Wagah border to witness the evening retreat ceremony (change of guards). Wagah is the border of India and Pakistan. Overnight at hotel
Day 06 AMRITSAR- JAMMU (219 kilometers, 6 hours drive)
Proceed to Jammu in the morning. Check in hotel on arrival and then relax. Overnight stay at hotel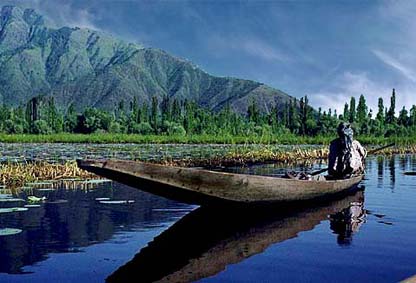 Day 07 JAMMU
Explore the city of Jammu visiting Peer Khoh- a cave shrine said to be naturally formed with Shiva lingam (the organ of Hindu Lord- Shiva) in the cave, which is quite mysterious, as neither its antiquity nor its cause, are known. Ranbireshwar Temple- dedicated to Lord Shiva. It has one central 'lingam' measuring 7 and ½ ft in height, 12 Shiva 'lingams' of crystal measuring from 15" to 38" and galleries with thousands of others carved on stone slabs. Raghunath Temple- dedicated to Lord Rama, is outstanding and unique in northern India. Bahu Fort & Gardens- stands on a rock face on the left bank of the river Tawi. Mubarak Mandi Palace- the oldest buildings in this palace complex date back to 1824. The most stunning segment is the Sheesh Mahal. Overnight stay at hotel
Day 08 JAMMU- PAHALGAM (320 kilometers, 9 hours drive)
Proceed to Pahalgam along the river Lidder. Upon arrival check in hotel and relax. Overnight at hotel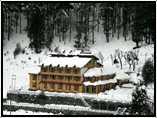 Day 09 PAHALGAM
Leave for full day sightseeing of Pahalgam at your own. You can enjoy Pony Rides at your own over the scenic hills and can hire a local car at your own; and then move to Aru, Chandanwari and Biseran (since outside cars are not allowed here). Overnight at hotel
Day 10 PAHALGAM- GULMARG (160 kilometers, 5 hours drive)
Proceed to Gulmarg at an altitude of 2900 meters above sea level, where you can take Gondola Cable Car at your own to ride up to top that is highest in the world.Upon arrival check in hotel have relaxation. Later in the afternoon you are free for your independent activities.
Gulmarg is basically a skiing spot in winter. Other than the adventure activities one can visit to Gulmarg- "The Meadow of Flowers", an 18-hole golf course- the highest in the world. The place has charming walks and pleasant pony rides through the picturesque scenery of the surrounding woods. Then again trekking is an experience that you should not be missed out in Gulmarg. You can walk along the small hills have the excitement of the valleys and can take shots for your future memories. Overnight at hotel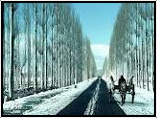 Day 11 GULMARG- SRINAGAR (60 kilometers, 1-½ hours drive)
Proceed to Srinagar. Upon arrival check in house boat and have relaxation.Living on the houseboat in the famous Dal Lake in Kashmir is never be the same experience. It has the pleasure that just cant be described in words; it only can be personally enjoyed upon having the feel of presence.
After having lunch in the houseboat you can enjoy "shikara" (small boat like kayaks used by Eskimos) ride at your own in the lake in evening. Overnight at houseboat
Day 12 SRINAGAR
After having breakfast leave for full day visit of Srinagar including excursions to the beautiful Moghul Gardens- "Shalimar Bagh", and famous Hazratbal Mosque.
One can eventually spend un-limited amount of time while being on the mind-blowing landscapes of these gardens and the beautiful nature of Kashmir. Overnight at houseboat
Day 13 SRINAGAR- JAMMU (293 kilometers, 8 hours drive)
Proceed to Jammu; upon arrival check in hotel and have relaxation. Overnight at hotel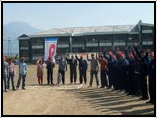 Day 14 JAMMU- DHARAMSHALA (204 kilometers, 7 hours drive)
Proceed to Dharamsala; upon arrival you will check in hotel and have relaxation. Stay overnight at hotel
Day 15 DHARAMSHALA
Dharamsala is a hill station wooded with oak and conifer trees and snow capped mountains. The snow line is perhaps more easily accessible at Dharamshala than at any other hill resort and it is possible to trek to snow point after an early morning's start. Since 1960 it became a temporary headquarter of His Holiness The Dalai Lama and has risen to international fame as "The Little Lhasa in India".
War Memorial- set amidst the pine groves is a war memorial, built on the entry point of the to Dharamsala to commemorate the post independence war heroes of Himachal Pradesh. A web of narrow paths and landscaped lawns lead towards this monument.
Norbulinka Institute & Namghyal Monastery- just 4-kms from Dharamsala, Norbulinka was established to preserve and teach the ancient Tibetan arts. The shady paths, wooden bridges, small streams tiny water falls make this place look like heaven. Here one can watch the wooden carvings and the tangka paintings, golsithing and embroidery being done. The nunnery close to the institute is a place where women are taught the advanced levels of Buddhist philosophy.
Namghyal Monastery is an important centre for Buddhist studies and research. 'Tsuglagkhang', opposite the Dalai Lama's residence contains large gilded bronzes of the Buddha. Overnight: at hotel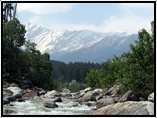 Day 16 DHARAMSHALA- MANALI (235 kilometers, 5-½ hours drive)
Proceed to Manali. Upon arrival Manali check in hotel and have refreshment. Later leave for sightseeing of following Hadimba Temple- is a very sacred place for the locals. Manu Temple- is situated in the original village of Manali now called old Manali. Manu in Hindu mythology was the creator of the universe. The name Manali is derived from Manu. Though the approach to the temple is not good, it is a good place to visit. Vashist Temple- is famous for its Hot water springs and the ancient Temple. Overnight stay at hotel
Day 17 MANALI
Leave for full day visit to follows: Solang Nallah & Valley: Solang Nallah is a lush green meadow sloped to provide a perfect ski venue. It comes alive during the winter months for ski lovers and during the summer months it is a heaven for Paragliding, trekking and camping. It is just 13 Kms from Manali and 4 Kms from Whispering Rocks resort.
Rohtang Pass:
This majestic pass is 51 Kms from Manali at a height of 13800 feet. It is covered in snow for most part of the year and therefore a major attraction for adventure activities. Overnight stay at hotel
Day 18 MANALI- SHIMLA (260 kilometers, 6 hours drive)
Proceed to Shimla. Upon reaching Shimla check in hotel and then free at leisure in the evening. Overnight at hotel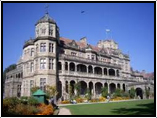 Day 19 SHIMLA
After breakfast leave for full day visit of Shimla. You have the opportunity to visit Jhaku Temple- Dedicated to the monkey God Hanuman, there are a few real monkeys too many out here, but leave them alone and don't eat food around them, and you will be able to enjoy a spectacular view of the snow- bound mountains.
The Mall and Ridge- Shimla's most sought after place, The Mall Road, runs along the top of the ridge and is one destination each traveler and visitor longs to visit. This is the centre of Shimla's social life. At one end of the Mall road is the "Scandal Point", so named because of a number of romantic rendezvous arranged here. Below this pulsating with life is the Lower Bazaar. Kali Bari Temple- This 150 years old temple houses the deity of Shyamala Devi, from whom Shimla has derived its name. A visit to the temple is a must for all visitors to Shimla. Overnight stay at hotel
Day 20 SHIMLA- MUSSOORIE (276 kilometers, 6 hours drive)
Proceed to Mussoorie. Upon reaching Mussoorie check in hotel and have rest. Overnight: stay at hotel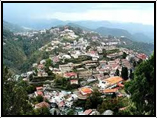 Day 21 MUSSOORIE
Leave for full day visit of Mussoorie Township. You have the opportunity to visit Gun Hil- Gun Hill being the second highest peak of Mussoorie offers a beautiful panoramic view of the Himalayan ranges and Gangotri Group to name the few. Kempty Fal- Located at 15 Kms away towards Yamunotri it lies at an altitude of 1370 mtrs. It has a distinction of being the biggest and prettiest waterfall located in a beautiful valley and is surrounded by high mountains. Mussoorie Lake- Situated at 6 Kms on Mussoorie-Dehradun road having a facility of pedaled boats. It offers enchanting view of Doon Valley and nearby villages. View during Night is marvelous. Nag Devta Temple- An ancient temple dedicated to Snake God Lord Shiva and is situated on Cart Mackenjee road is about 6 kms from Mussoorie on way to Dehradun. Jwalaji Temple (Benog Hill)- Situated at an altitude of 2104 meters and 9 Kms. west of Mussoorie it is situated on the top of the Benog Hill surrounded by thick forest. Overnight stay at hotel
Day 22 MUSSOORIE- RISHIKESH- CORBETT (270 kilometers, 6 hours drive)
In the morning have breakfast and then drive to Rishikesh, Haridwar and then Corbett. In between these places you will have the opportunity for visiting temples in Rishikesh and Haridwar.
Check in at the Hotel & overnight Stay.
Day 23 CORBETT
At early morning leave for jungle safari; later back to your hotel and have breakfast. Rest at leisure. In the post lunch session you will again go for a jungle safari
Day 24 CORBETT- DELHI (265 kilometers, 6 hours drive)
At early morning you will proceed to Delhi; on arrival you will check in hotel and then relax.
Delhi departure
At late night you will be given assistance in transfer to international airport on board flight for onward destination. Henceforth our services terminate and we wish you a safe and happy journey back home.
Click here to book this tour now...
Click here to book this tour now...